Planning is essential to a project's success!
Just as a company will fail without a business plan, your project won't bring any results without a perfect plan.
The goal for this task is to connect with your organization to understand your business objectives, your audience and internal processes and translate all these into a creative solution. Through meetings, conferences, phone calls and emails with your executives / stake-holders and with your employees we will fully get under your business's skin to find out how we can meet your needs.
We don't want to price your project too soon and send it to production. Your business is unique and your success is ours. That's why you'll always get a tailored solution which will bring the best results.
The planning phase is often overlooked but we feel it's essential to a project's success. We'll be discussing everything there is to discuss, we'll be studying your competition, researching until we both agree the plan is great and only then we'll move to building your solution.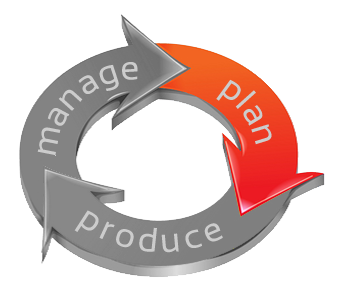 Next: Content and design